A FUNdraising event for the Friends of Pheasant Branch Conservancy
Please join us for our Third Annual, Prairie Chase Run/Walk in beautiful Pheasant Branch Conservancy!

Last year we had about 230 participants. This year, we'd like even more. So please invite your friends!
Price increases on midnight, June 22nd. Register Now!

Register now while the fee is still low. Beginning June 23rd the fee will increase to $55 for a family, $40 for an individual and $25 for a student.
Online registration ends at midnight, June 22nd so register now!
We also cannot guarantee you will get a t-shirt if you register after June 22nd.
What's new this year? A kids "short-race" before the main event!
We have added a "short-race" for kids (3- 12 years of age). It will take place at 9:15am — which should give most of the participants enough time to finish their event and watch the fun.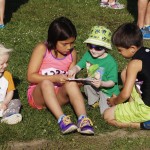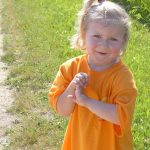 Run or Walk in Beautiful Pheasant Branch Conservancy
Pheasant Branch Conservancy is one of the best kept secrets for runners and walkers in the greater Madison area. The run route is on easy-going, crushed limestone and also include a section of flexible, joint-sparing boardwalks through cool, shaded woods. The walk route is also on the limestone path as well as mowed paths through gorgeous, restored prairie.
Two different routes. One for runners and another for walkers.
We have designed two different courses for this event.
The 5K/10K course for the runners will be the main circular path around the Conservancy.
The 5K path for the walkers is in the northern section of the Conservancy. It will use part of the main limestone trail to start but then will turn off into the prairie fields in and around Frederick's Hill. We designed this course to showcase the work that the Friends of Pheasant Branch Conservancy has done to restore the prairie and oak savanna. Hopefully you will get hooked and keep coming back to these fields as the season progresses and the prairie flowers bloom.
For those walkers who have young children in strollers or for other walkers who may not want the challenge of the hills, we recommend taking the relatively flat running course.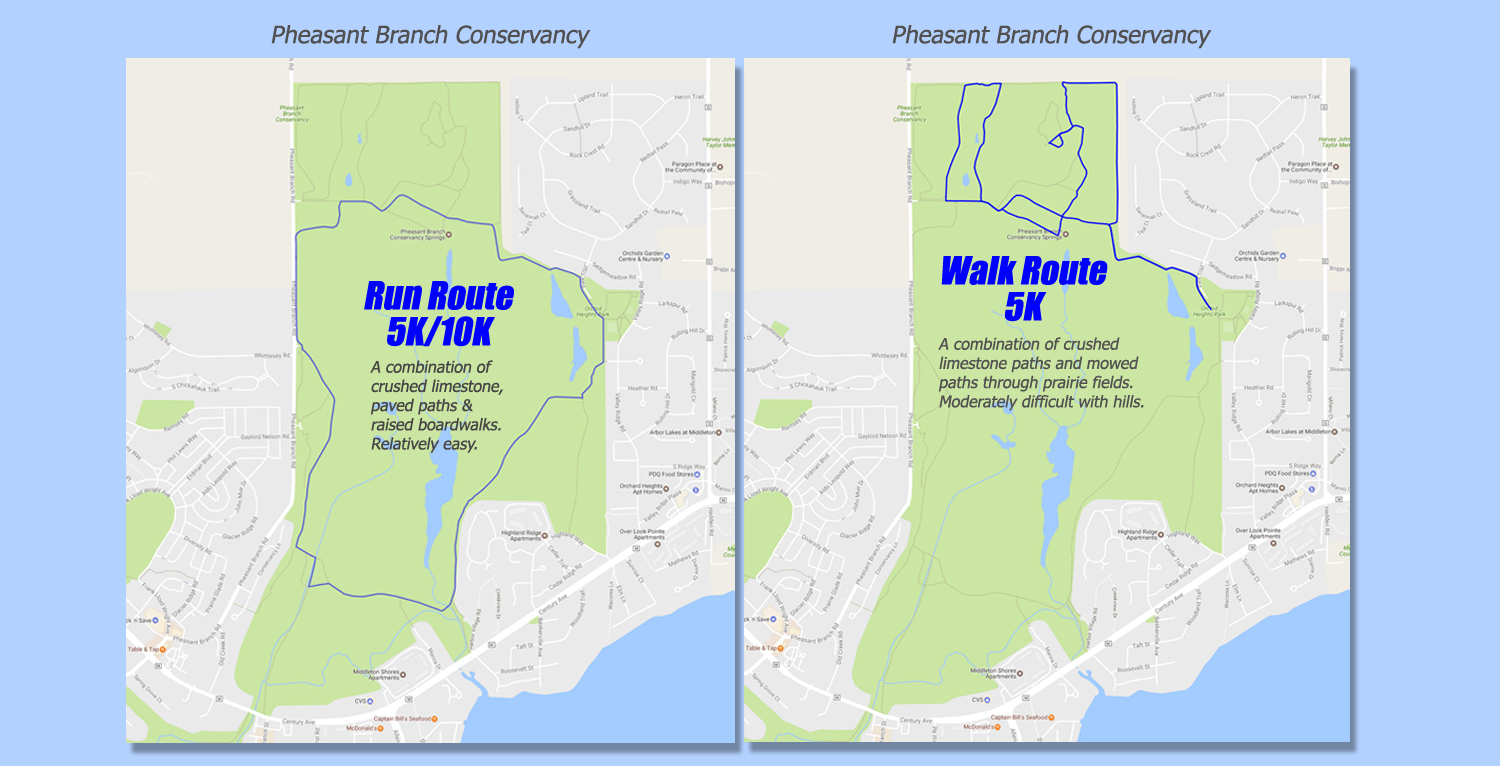 Event Details in Short

The third annual Prairie Chase event will take place on June 24, 2017. Registration will open at 7am.  Start time for the 5K walk is 8:00am. Start time for the 5K and 10K runs will be 8:15am.  At 9:15 we will have a kids short race around a soccer field. The event will start and finish in Orchid Heights Park, Middleton, WI. Parking and a rest room is available at the park. Click here for directions.
This is not a chip-timed event but we will provide a timing clock at the finish line.
The event will be held regardless of weather.


opens in a new tab