Thanks for your support of Prairie Chase and of Pheasant Branch Conservancy. The fifth annual Prairie Chase is scheduled for June 15, 2019 and we need your continued support through the long recovery from the August 2018 flooding event.
The City of Middleton, Dane County Parks, Friends of Pheasant Branch, and the community at-large has stepped up to quickly and safely reopen the Conservancy to the public, but the infrastructure repair and ecosystem restoration continues. You can help by joining Friends of Pheasant Branch Conservancy or by making a donation here.
We'll be making some tweaks to the schedule of events in 2019, but the race routes are pretty set. Registration will open January 2019.
ALL-TERRAIN 10K
Racers will run the main, crushed limestone loop (1x), but with diversions over Frederick's Hill and onto some of the grass paths, dirt trails, and hill climbs tucked away in the Conservancy.
Challenge yourself with some tougher trail and be rewarded with some of the best views around! (Final course map and exact distance subject to modification.)
5K RUN
When you have a loop that is exactly five kilometers, you don't mess with a good thing! The 5K Run will follow the flat, fast loop on the main crushed limestone path through the Conservancy.
This is a running-stroller friendly route (for runners or walkers)!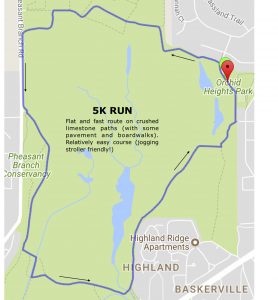 WALK (~2.4 MILE)
The WALK route is in the northern section of the Conservancy. You'll start on the main limestone trail, then will turn off into the prairie fields in and around Frederick's Hill. We designed this course to showcase the work that the Friends of Pheasant Branch Conservancy has done to restore the prairie and oak savanna. Hopefully you will get hooked and keep coming back to these fields as the season progresses and the prairie flowers bloom.
(For those walkers who have young children in strollers or other who may not want the challenge of the hills, we recommend taking the relatively flat 5K RUN course.)
Event Details in Short

The fifth annual Prairie Chase event will take place on June 15, 2019. The All-Terrain 10K and 5K Run begin around 8am with the walk starting just after. Stick around after for the kids race, refreshments and music. The event will start and finish in Orchid Heights Park, Middleton, WI. Parking and a rest room is available at the park. Click here for directions.
This is not a chip-timed event but we will provide a timing clock at the finish line.
The Prairie Chase will go on regardless of weather, unless deemed unsafe by race officials or park staff. Sorry, no refunds.