A FUNdraising event for the Friends of Pheasant Branch Conservancy
Please join us for our Fourth Annual, Prairie Chase Run/Walk in beautiful Pheasant Branch Conservancy!

Last year we had about 265 participants. Just about where we'd like to keep it. Or course, a few more wouldn't hurt. So please sign-up and invite your friends!
The price will increase several times between now and race day. Register Early!

Register now while the fees are still low. On race day, June 23rd, the fees will increase to $55 for a family, $40 for an individual and $25 for a student.
Online registration ends at midnight, June 21nd so register now!
We also cannot guarantee you will get a t-shirt if you register after June 1st.
Back by popular demand: KIDS RACE after the main event!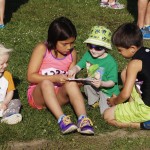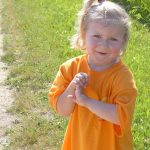 Run or Walk in Beautiful Pheasant Branch Conservancy
Pheasant Branch Conservancy is one of the best kept secrets for runners and walkers in the greater Madison area. The run route is on easy-going, crushed limestone and also include a section of flexible, joint-sparing boardwalks through cool, shaded woods. The walk route is also on the limestone path as well as mowed paths through gorgeous, restored prairie.
ALL-TERRAIN 10K
We are excited to announce a new route for this year's long race! Racers will still run the main, crushed limestone loop (1x), but with diversions over Frederick's Hill and onto some of the grass paths, dirt trails, and hill climbs tucked away in the Conservancy.
Challenge yourself with some tougher trail and be rewarded with some of the best views around! (Final course map and exact distance subject to modification.)
5K RUN
When you have a loop that is exactly five kilometers, you don't mess with a good thing! The 5K Run will be the same flat, fast loop on the main crushed limestone path through the Conservancy.
This is a running-stroller friendly route (for runners or walkers)!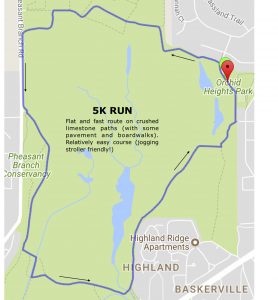 WALK (~2.4 MILE)
The WALK route is in the northern section of the Conservancy. It will use part of the main limestone trail to start but then will turn off into the prairie fields in and around Frederick's Hill. We designed this course to showcase the work that the Friends of Pheasant Branch Conservancy has done to restore the prairie and oak savanna. Hopefully you will get hooked and keep coming back to these fields as the season progresses and the prairie flowers bloom. (For those walkers who have young children in strollers or for other walkers who may not want the challenge of the hills, we recommend taking the relatively flat 5K RUN course.)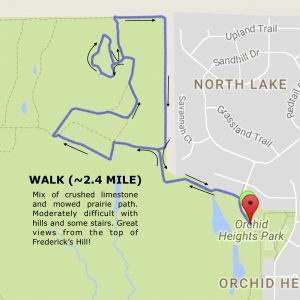 Event Details in Short

The fourth annual Prairie Chase event will take place on June 23, 2018. Registration and packet pickup opens at 7am. The all-terrain 10K and 5K begin at 8am with the walk starting just after.  Stick around after for the kids race, refreshments and music by Bluegrass TeA & Company (around 9:15am.) The event will start and finish in Orchid Heights Park, Middleton, WI. Parking and a rest room is available at the park. Click here for directions.
This is not a chip-timed event but we will provide a timing clock at the finish line.
The event will be held regardless of weather.


opens in a new tab